This COVID-19 Pandemic taught us a lot of good and bad things. The most important thing that it taught us was "Being Digital is the new way" and we can do/learn all sorts of things online. Zoom, Meet, etc rushed into our rescue and a foray of online classes sprang up. It not only helped us to divert our minds from all the negativity around but also taught us a few new things (to the people who were eager to explore, not everyone 😜)
People took up their lost hobbies and all sorts of fun sessions. I personally attended a lot of online courses, did tons of certifications and even registered for some crazy workshops myself like Coffee painting, Idol Making, Psychology 101, etc. Amongst all these, there was one course/status that kept popping me on my WhatsApp. It was conducted by my friend Gauri Gupte on handwriting analysis aka Graphology.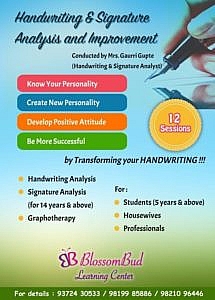 The course she conducts is primarily for School Kids where she analyses their handwriting and gives them handwriting improvement coaching. I always looked at her flyers and would think
Is it really possible to understand one's personality from their handwriting and more so can improving it actually mould one's personality?
Then, the nerd in me researched and found a few articles that suggested, it's actually possible. Also, the Psychology workshops that I attended explained to us the concept of Graphotherapy and how alterations in your handwriting can bring about desired subconscious changes in your personality. (Yes, it is heavy to fathom 😅 )
So being me, I pinged her and she told me to send a page in your handwriting. She suggested that she would analyse it for me. What I really wanted was to know more about it but she was like
Until you see your report yourself you will not believe in whatever I say !!!
So, I just randomly googled prose and wrote it down. She told me that she would revert back once she is done with the handwriting analysis with a detailed report. Following writing Instructions were given to me:
Use an un-ruled paper (A4 printer paper)
Use a Ballpen as it shows your pen pressure
The prose must be in English language
Prose should be of 1 full page with 3 signatures at the end
This is what I had submitted her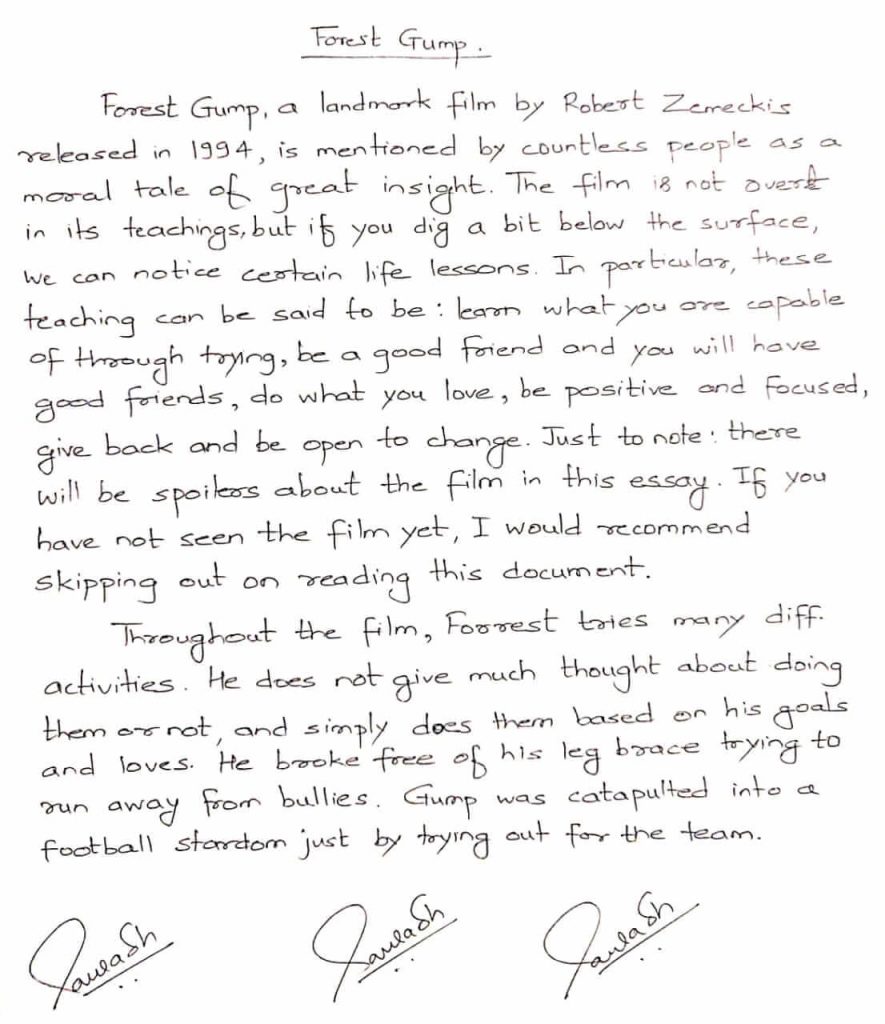 Finally, after a week the day arrived. She called me and told me that the report was ready. The process she usually follows is to first explain the analysis over the phone and then sent in the report. The report had a detailed analysis of my prose as well as my signature.
I was totally mesmerized by the analysis. It was almost 80-90% accurate. It gave me a lot of insight into myself. The analysis was not only personality based but also provided highlights about my current mental stage, which were staggering.
Unfortunately, the report is personal and private and hence I am unable to share it with you all🤐😪. I will try to get a sample report from her to give you all an idea.
To be honest, I really did not think so many insights were possible. But she totally blew my doubts away. I was more surprised because we only casually know each other as we do not share any common social circles. yet she provided such intricate details.
I am now running behind her and requesting her to teach me more about handwriting analysis or provide me with a starting point. Keeping my fingers crossed 🤞🤞🤞
If you want to get your Handwriting analysis done, you can connect to Gauri Gupte via
Important Note: This is not at all a sponsored article (my blog is not that big for such things 😆)